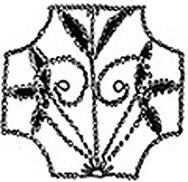 Lucy is a maximalist gardener, with a passion for plants and, being artistic, a love of sculptures and crafts. She finds the minimalist gardens, seen at The Chelsea Flower Show, cold in atmosphere and touch. Gardens should be fun, relaxing, quirky and original spaces to reflect you and your family. She is keen on reclaimed elements and tries to use craftsmen to create original features rather than buying mass produced products.
The garden is divided into compartments each with a different theme, ie Asian Border, Unusual bulb and rhizome garden, woodland garden. The children love exploring these different areas, but it is also used as a teaching resource for the students on her courses to see good design and plant combinations.
Lucy is delighted to advise on your garden design or plant combinations and will quote on designing a single border or whole garden. Please contact her to arrange a quotation.
Lucy has officially closed the garden for the foreseeable future due to
taking up another creative love - Fine Art.
She is hoping to become the next Claude Monet or Cedric Morris ie a keen gardener and painter, picking up her love of colour, form and texture and using the garden to inspire her art. She is currently on The Art and Design Foundation diploma course at the West Suffolk College and immersing herself in her love of every form of art (now that she is free of constant weeding!) Her work varies from the below wire work Gunnera leaf to plant prints and abstract canvases.
Lucy is still designing gardens and is happy to advise you on an hourly basis re your gardens design, identify plants and advise how to maintain them. She will continue her one day courses but is not holding the 14 week courses anymore. Do give Lucy a call if you are interested in her art or garden commissions.