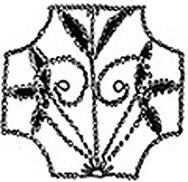 LUCY REDMAN NCH Dip ESGD
Lucy has been a keen gardener since she was a little girl, working with her mother growing unusual dried flowers which were sold at the pottery where her mother worked in Kersey, Suffolk.
At secondary school she enjoyed rural studies which was taught by Keith Offord - a graduate of Kew Gardens ie he was pretty knowledgeable! Frank Knight, ex-Director at the RHS Gardens, Wisley, was also a huge influence and helped with her interest in plant collectors.
In 1985 Lucy was the youngest member of staff working at the Royal Horticultural Society's Gardens, Wisley. She worked for a landscaping company in London whilst attending the English Gardening School based at the Chelsea Physic Garden in London where she gained her Diploma in Garden Design in 1989.
Redman Garden Designs was set up in 1989 and for 5 years was based in London designing, planting and maintaining gardens for some very prestigious clients, including a £200,000 pound Roof Terrace in Kensington and a 40m x4m Mixed Border in Henley. For several years she exhibited her designs at both the Chelsea Flower Show and the Hampton Court Flower Show.
Beth Chatto with Lucy during her visit to
The Lucy Redman Garden on May 12th, 2008
"Simply delighted to see at garden designed for children of all ages – quite apart from the serious plantsmanship!"
Beth Chatto

Lucy moved her design business to Suffolk in 1995 and also became a part-time Lecturer at Otley College, near Ipswich where for 4 years she taught both the City and Guilds and Advanced National Certificate Courses in Garden Design.
In 1996 Lucy started working as a part-time Landscape Design Assistant to Xa Tollemache at Helmingham Hall. She helped with the planning and planting of her Gold Medal winning Chelsea Flower Show Garden sponsored by the Evening Standard in 1997.
In 1999 she was one of 25 to be auditioned out of 500 applicants for the position of presenter on BBC2's Gardeners World.Lucy writes a monthly column for the East Anglian Daily Times Suffolk magazine, and is a member of the Garden Media Guild. She is also a member of the Suffolk Gardens Trust and Plant Heritage.
Lucy first worked with Eastfeast on her daughter's primary school garden at Great Whelnetham and is now working with the children at Tudor Primary School in Sudbury. She is also helping to reinstate her old school garden at Hadleigh High School near Ipswich - where her love of gardening began.
At the Garden Media Guild Awards 2009 Lucy was delighted to be a Finalist in the Young Gardener Intiative of the Year category for her article in the East Anglian Daily Times Suffolk magazine entitled 'Helping to encourage a growing passion'. The article was about her passion to show how gardening can be cross-curricular as demonstrated by the garden at Great Whelnetham Primary School who worked with Eastfeast on the project. To read the article click here
The Lucy Redman School of Garden Design was founded in 2000 and the short courses are held in the sedum roofed Garden Pavilion.